Senior Implementation Consultant
As an Senior Implementation Consultant, you will be responsible for onboarding our customers and ensuring they fulfill the ambition set when deciding to implement TimeLog.
📢 About the position:
We are looking for a qualified Senior Implementation Consultant to help our clients improve their processes and support their business by providing intuitive guidance. The ideal candidate will also possess excellent problem-solving skills to provide solutions and recommendations that will increase profitability and efficiency at our customers.

You are an experienced consultant that has helped your previous customers implement a software solution preferably a PSA or ERP solution. You love finance and numbers and to work with data that can make your customers take the right decisions. You are not afraid to challenge your customers to see beyond their current processes and help them to mature their business processes. 
🧭 The main objective of this role:
Onboard new customers to our system – make them understand how it works and how to evolve their business with the system;
Being a project manager for the implementation processes to make sure the customer goes through the different phases and starts using TimeLog as intended;
Evolve existing customers in their use of the system;
Advice and challenge new and existing customers in which processes could benefit their business;
Be the calm and steady guidance through changes in their company within our line of business;
Change management for Enterprise customers;
Help the customer achieve the goal for why they purchased TimeLog.
🎯 In this role, your responsibilities are to:
Provide high-quality training and guidance;

Help our customers reach their goals with the implementation of TimeLog;
Ensure a good handover to Customer Success Management after finishing the implementation;
Provide ad-hoc consultancy with existing customers when they want to use TimeLog more or are changing internal processes;
Collaborate with our sales consultants on bigger sales deals and a handover process for new customers that need implementation;
Keep developing the internal processes around implementing customers, so we are aligned and give the same quality to all customers;
Create materials for the training and sometimes for the customer to use internally;
Provide feedback from the field to the organization.
🏆 Your top skills and qualifications:
Native Danish language and you master English at the negotiation level in both writing and speech; it will be an advantage if you also master Swedish or German
+5 years' experience in training and implementing clients
Financial understanding (KPI figures, Bookkeeping principles, salary management)
A master's degree in Business Administration, Engineering, IT, or a related field;
Experience in C-level relations;
Understanding the customers' business logic;
Experience and confidence in hosting web meetings/workshops;
Project Management skills & Consulting experience;
🎁 We offer:
Diversity: We speak more than 15 different languages. Some TimeLoggers are young, others a bit older, some have university backgrounds, others don't, some are city people, others prefer the country life. But you can be sure that there is room for everyone.
Flexibility: Work from where you feel most productive and comfortable. Whether it's from home, so you can pick up your kids faster or from the office. It's up to you!
Never Stop Learning: We offer training & development programs because we want to see you succeed at work.
Tools & Technology: We make sure that you get all the equipment and tools you need to do your work at the office, and we also make sure that your home office is properly equipped.
Family & Friends: In TimeLog, we treat you as a family member and not an employee. Everyone knows each other, and many of us are close friends outside work too.
Psst... We are Great Place To Work-certified!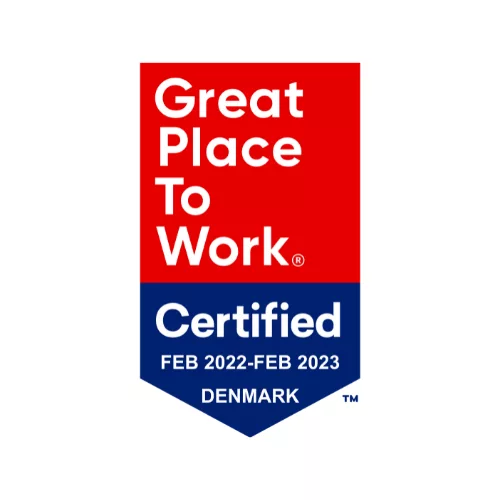 Value your time